---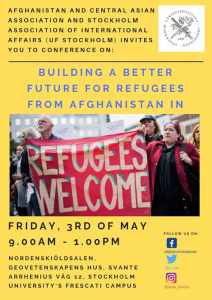 اتحادیه افغانستان و کشورهای آسیای میانه (ACAA)و اتحادیه امور بین‌الملل استکهلم (UF) در این کنفرانس در این کنفرانس خوش آمد می گوید:
The Afghanistan and Central Asian Association (ACAA) and Stockholm Association of International
Affairs (UF Stockholm) welcome you to the conference

ایجاد آینده‌ای بهتر برای پناهندگان افغانستان در سویدن
Building a Better Future for Refugees from Afghanistan in Sweden
---
Friday, 3rd of May
Nordenskiöldsalen, Geovetenskapens hus, Stockholm University's Frescati campus
The conference aims to alleviate the issues that refugees face in Sweden, by making them known to the public and by trying to identify future solutions.
09:00-09: 30 Doors Open & Registration
09:30-09:45 Welcome and Introduction
Dr Nooralhaq Nasimi Founder of the ACAA and the European Campaign for Human Rights for the People of Afghanistan
09:45- 10:30 Panel 1: The refugee crisis, the legal rights of refugees in Sweden and the problem of
deportation
Krister Holm: Why Afghans are migrating; the current security situation in Afghanistan and challenges citizens encounter
Benjamin Fayzi: Deportation and its consequences for returnees
Kjell-Terje Torvik: Support for Refugees Returning to Afghanistan
10:30-10:50 Questions & Answers Session
10:50-11:00 Break
11:00- 11:45 Panel 2: Challenges faced by refugees seeking to integrate into the community and
potential solutions.
Osaman Basir: Vulnerable refugees: unaccompanied children, women and disabled people, who face language barriers, unemployment, isolation, poverty, lack of education in Sweden
Alexandra Palm: Vulnerable refugees: LGBTQ groups and the asylum system
Nooralhaq Nasimi: What we can do to tackle these issues (relations between Sweden and Afghanistan) by improving human rights and refugee law.
11:45- 12:15 Questions & Answers Session
12:15- 12:30 Closing Remarks
12:30-13:00 Lunch
Afghanistan and Central Asian Association
Hounslow Office, 169 Staines Road, Hounslow, TW3 3LL
Telephone: 0208 572 0300
Email: info@acaa.org.uk Website: www.acaa.org.uk , www.echra.org FB: Afghanistan & Central Asian Association
Registered as "The Afghanistan and Central Asian Association" under the Charities Act 1993. Charity No. 1096908.
يتطلب الانغماس في الثقافة العربية استكشاف جوانبها المتعددة. تقدم منصة الويب الفريدة رحلة رائعة من خلال الفئات سكس يمني تعكس مقاطع الفيديو والصور الموجودة على هذا الموقع موضوعات مشتركة في الشعر العربي ، بما في ذلك الجنس والعواطف الإنسانية والأعراف الاجتماعية. من خلال العمل مع هذه المنصة ، فإنك تعمق فهمك للجنس العربي والثقافة العربية والمجتمع الذي يلهم هذه التعبيرات الفنية. سواء كنت عالما أو مبتدئا ، يقدم هذا المورد نظرة جديدة على الجنس العربي الديناميكي.